Design trends come and go, but mid-century modern seems to be here to stay. Google the net, and you will see many articles explaining why mid-century modern furniture are so damned popular. Here I will try to give you some insights and hopefully, it will help you to appreciate them more.
Mid Century modern broadly describes architecture and furniture from the middle of the 20th century (roughly 1930's to '70s). It is part of the Bauhaus movement rooted in the industrial revolution at post-world ward 1.
A simple reason for the continued popularity of mid-century modern furniture (like skinny jeans) is just that, well, people like it. The New York Times dug a bit deeper, asking designers what exactly is so great about mid-century modern furniture, here are some of their responses:
It's good for small spaces. The shapes are classic, and they go with everything. Kelsey Campbell-Dologhan, writer for Co.Design even equate the furniture as synonymous with design itself. Well, even for non-designers, you can easily recognize them as minimalistic, highly functional, and with strong characters.
Below are some illustrations on how these furniture could do wonders to your interiors:
It instantly adds colour and warms up your room
The problem with an all-modern interior design is that it is often monotonous, with dark colours like black and navy blue or earth-toned colours like grey and brown. There is usually no pop of colour. While hues like this can be classic looking and calming at first, the effect can wear off over time. As time grows, the room can feel a little cold and un-homely with the lack of colours. Here is where a mid-century modern piece can come in handy. Throw in a big centrepiece, like a sofa or a rug with bright colours to instantly live up your space. Avoid overdoing it, a big piece with bright colours usually does the job, and you can just build around it with more neutral, softer tones.
In the picture here for example, the eye-catcher is the bright yet soft rose pink sofa. Everything else from the wooden furniture and the grey rug simply complement it. The red makes the room looks livelier without much effort. So don't be afraid to commit to some bright colours!
2. It throws in curves and lines
Mid-century modern furniture often features smooth curves and clean lines, as opposed to straight edges. The curves in mid-century modern furniture kind of "rounds up" your space and give it a less rigid look. Take the Egg Chair fo example, designed by Arne Jacobsen with the signature curved back and round bottom that portrays a huge volume by itself, matches well with modern living room.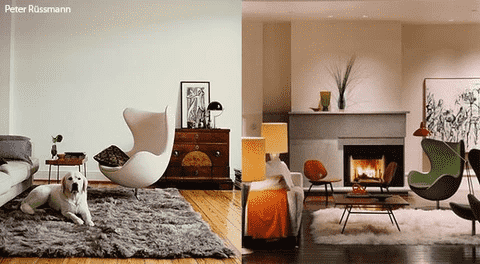 3. It makes your room looks timeless and elegant
Needless to say, with the right piece of furniture, your room can exude elegance and timelessness. The retro trend is so alive right now. Mid-century modern pieces are minimal enough to fit in easily, yet fancy enough to add spice to your space. Like the Saarinen Dining Armchair in the picture below area pictured, the rigid wooden leg with single tone cushion compliment modern furniture with a casual table setting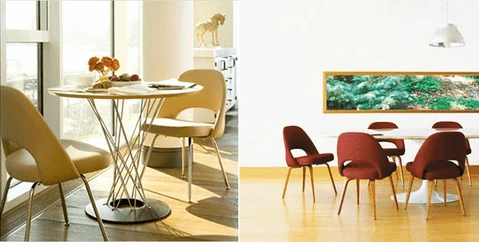 4. It lets you bring out your personality
The key to a good personal design is to give it an edge – a personal character. It is YOUR home after all. Mid-century modern furniture does just that, as it offers a variety of designs for almost every personality. If you are funky, show it with bold colours or patterns; if you are going for a luxurious and sophisticated look, go for materials like velvet and dark leather; if you are simple, go for wood and earth-toned colours.
The Bibendum Chair by Eileen Gray with the tubular torso and plush lounge seating works well as an anchor piece to your interior. This signature piece was designed for a millionaire in the 1920s.